Robotics Programming Summer Camp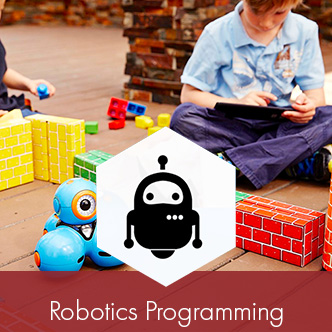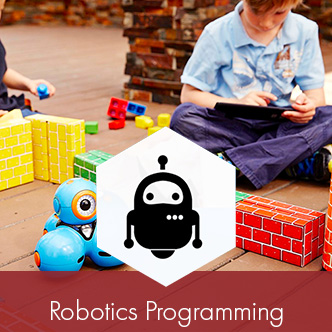 Robotics Programming Summer Camp
Command Wonder Workshop robots Dash and Dot to solve puzzles, beat challenges and collaborate with teammates. Learn basic coding and programming fundamentals while playing with robots!
Age: 5 - 9
Time: 9AM - 3PM
Dates:
Jun. 24 - 28
Jul. 1-3 (3-Day Camp)
Aug. 12 - 16
Program Details:
This exploratory course introduces students to programming fundamentals and the basics of code and logical thinking. Using the intuitive Wonder Workshop robots, students learn what it means to program a robot. By working collaboratively on teams and through individual challenges, kids of all ability levels learn quickly through hands-on training and play. Robots Dash and Dot engage student's creative and logical problem-solving abilities as kids command the robots to maneuver effortlessly.
Dates:
Jun. 24 - 28
Jul. 1-3, 5 (4-Day Camp)
Jul. 22 - 26
Aug. 12 - 16
Camp Takeaways:
Extended Care Option:
We offer an extended care option from 3pm to 5:00pm for an additional $15 (cash only).
Late Pick Up
Parents picking up children after 5:00pm will be charged a late fee of $5 per five minutes, per child with no cap.
Lunch Provision:
Students are encouraged to bring their lunch. A microwave is available for heating food. Blaze Education will provide lunch for an additional fee of $8/day (Cash only).